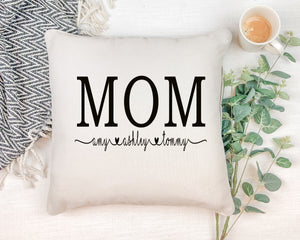 DIY KIT - Mom Grandma Gigi Nana - Family Name Pillow
Regular price $16.00 Sale
Do you have little ones that need to keep busy? Or planning a birthday party and need an activity to keep little hands busy? We have you covered with our DIY kits. Each kit will come with everything you need to complete each an every project, plus some left over!
If you need kits customized for a larger group or would like us to host an event for you, get in touch!
doveandarrowshop@gmail.com
Kit Includes:
Pillow case- Provide customization details in the customize field by the photo

Custom Stencil (provide name in customization field)  Custom names and MOM, MOMMY, GRANDMA, NANA etc. Names may be on multiple lines if more than 3names are provided.

black paint

Optional Pillow Insert
Paint Brush/ dabber

Instructions sheet

Kits will be available for pick up.
We will email you once your kit is ready for pick up. Curb side pick up only. Please call the shop once you are there for pick up and we will leave the item outside.
Kits can also be mailed. Please select the appropriate shipping option.