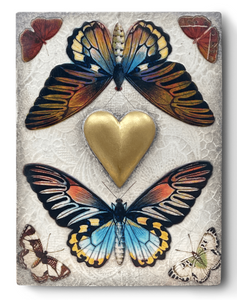 T530 PASSION - Sid Dickens Tile
Regular price $96.00 Sale
***If you are looking for a particular tile and it is not in stock, please get in touch we may be able to order it for you. 905-339 -0999 doveandarrowshop@gmail.com***
2021 - Spring: The Harmony Collection
Tile No:  T530
Passion
Carefree and colourful,
Fluttering ebulliently,
Spreading joy and delight. 
Size: 6x8 in. | Please note that slight differences when compared to the image should be expected due to the handmade nature of the Memory Blocks. | Released: 2021
Please note this product DOES NOT QUALIFY FOR FREE SHIPPING. YOU WILL BE INVOICED FOR SHIPPING AFTER THE ITEM IS PURCHASED..