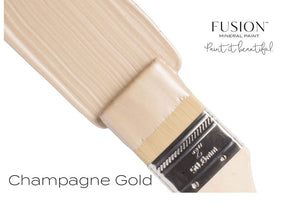 Champagne Gold Metallic - Fusion™ Mineral Paint
Regular price $19.00 Sale
Champagne Gold Metallic is a much softer paper gold, more sophisticated and modern. Think of it as the updated cousin of that timeless classic gold, where you don't want as much of a traditional darker gold depth but rather something that feels a touch light and airy. This colour would be wonderful to customize table vases and candle holders for weddings and other holiday celebrations. Possibly even personalized signs and even some creative mosaic art work for your home. And let's not forget furniture handles and knobs! 
Base : waterbased
Coverage : approx 75 sqft per 500 mL
Finish/sheen : Matte with mica pigments for shimmer
Clean up : water
Dry time : 30 min approx
Recoat time : 1-2 hours approx
Cure time : 21 days approx
How to clean surface:
Mild soap and water
Can be used over
Most wax-free surfaces; tricky surfaces with use of Ultra Grip
Can be painted over:
After re-coat time
How to use:
Prep, Paint, Done!
For more see: https://fusionmineralpaint.com/