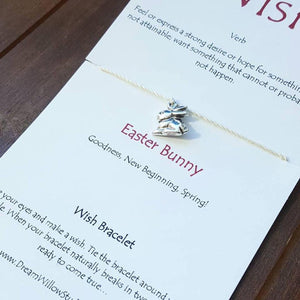 Easter Bunny Wish Bracelet
The perfect little gift for a friend and yourself. Perfect for bridal shower gifts, party favors, birthdays
8 inches of cotton cord with a silver plated Easter bunny charm.

Once you receive your wish bracelet:

Close your eyes and make a wish. Tie the bracelet around your wrist or ankle. When your bracelet naturally breaks in two, your wish is ready to come true…



This is a hand made item and your final piece may not look exactly the same as the one pictured, it will be special to only you. Letters may not always be perfectly aligned, this is the charm of buying hand made! Each piece is completely unique.