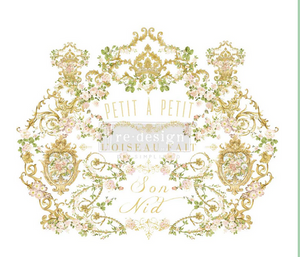 Kacha - Petit A Petit - Redesign with Prima Decor Transfer
Regular price $35.00 Sale
24"x35", cut into 2 sheets
With a lovely French saying that translates to "Little by little, a bird makes its nest", this gorgeous transfer featuring dazzling gold, soft pink, and fresh green is inspired by Marie Antoinette's bedroom wallpaper in Versailles! Almost any color will work as a base under this golden, metallic transfer, adding glam to your piece, and making it so versatile.


Decor transfers are perfect for your next DIY project. Transform painted furniture, mirrors, walls, wood etc.

Images by of Re-design with Prima.
Explore the many possibilities of transforming your home with  Decor Transfers. Exceptionally detailed, gorgeously composed and effortlessly easy to apply, these transfers will transform your living space. Use on walls, furniture, wood, doors and many more surfaces. The possibilities are endless. Includes one transfer. Please note, transfer may be cut into pieces for easy application.