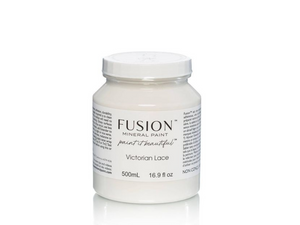 Victorian Lace - Fusion™ Mineral Paint
Romantic in every way, Victorian Lace is a multitone white perfectly balanced between warm and cool. This shade is inspired by the intricate details of its namesake.
One pint of  Fusion™ Mineral Paint covers approximately 75 sq. feet. Typically this will cover a medium to large dresser, a chair and a picture frame.
Fusion™ Mineral Paint is a revolution in paint. It's easy to apply, in that it is self-levelling and it requires minimal prep work. 
Base : waterbased
Coverage : approx 75 sqft per 500 mL
Finish/sheen : matte
Clean up : water
Dry time : 30 min approx
Recoat time : 1-2 hours approx
Cure time : 21 days approx

Non-toxic
Minimal prep work
Easy application
Exceptional coverage
Gorgeous matte finish
No sealer required
Built-in topcoat for amazing durability
UV, water, and stain resistant
Lead-, ammonia-, formaldehyde-, and phthalate-free
7 year shelf life
FUSION is offered in a gorgeous matte finish. This means an almost zero reflectance value (similar to our milk paint). And it is a truly washable finish!

If you prefer a finish other than matte, depending on the look you love, waxes or a top coat is available. And there is a wide array of Fusion™ finishing products to help you create custom masterpieces, Fusion™ offers the best variety of decorative faux finishing products. Transfer gels to metallic gilding pastes, Fusion™ has it all!
Please use common sense when tackling any painting and/or refinishing projects.
For more see: https://fusionmineralpaint.com/