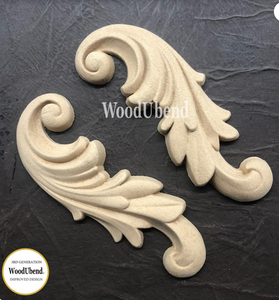 Set of Decorative Scrolls WUB1320 12x5cms - WoodUBend
This WoodUbend moulding would add a real flourish to any craft or up-cycling project.
The 'Set of Decorative Scrolls' moulding is a WoodUbend product with two ornate scroll designs. When cool, WoodUbend mouldings have all the properties of wood: they can be sanded; stained; sawed; distressed; painted; drilled; nailed; etc. However, with heat, the mouldings become pliable, flexible and malleable, allowing them to be stretched, shaped and applied to any surface, no matter how intricate the shape. When warm, WoodUbend mouldings are easy to cut and adhere to your projects.
You can use a heat gun, hair dryer or griddle to apply heat. It's simple and fun! Heating means that the moulding will make an ultra-strong bond with the surface to which it is applied. It also means that if you re-heat it, you can remove and re-stick your moulding hours or even days after it has been applied. What could be easier?
All WoodUbend products are designed to add an individual touch to your creative project. The larger mouldings are great for larger projects, such as furniture upcycling. The smaller designs will be sure to enhance your crafting project with your own individual style.
Our third generation WoodUbend mouldings are made at the highest compression rate yet and with upgraded rollers. This allows for cleaner, crisper lines and greater consistency from moulding to moulding.
The new, third generation packaging includes a wooden insert for greater protection of the mouldings during transport and it's a sustainable, reusable product – perfect for paint mixing, providing protection for surfaces when cutting or heating your WoodUbend mouldings, or turning into its very own project.
This a pair which comes in a left and right design.