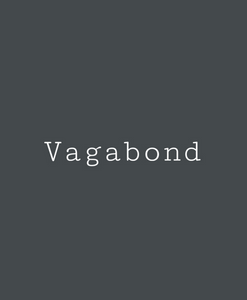 Vagabond Blue Black - ONE - Melange Paint - Artisan Mineral Paints - Primer to Topcoat in One - 16oz - Canada Active
Regular price $31.00 Sale
This is for our ONE formula (built in primer and topcoat), no sealer needed but may be applied for additional protection.
Vagabond- a moody blue black.
Visit us in person!
We are located at 363 Kerr Street in Oakville, Ontario!
We carry Wise Owl Paints, Melange Paint, Dixie Belle Paint, Silk Mineral Paint, Fusion Mineral Paint and Milk Paint by Fusion!

ONE Paint- This popular one step (primer, paint and topcoat) furniture paint. It is zero-low VOC, comes in all 88 colors, is an acrylic water-based formula and has easy soap and water clean-up. It includes a primer but in the case of new/raw wood, a stain blocking primer is recommended for tannin blockage. ONE does not need to be sealed as it has the protective topcoat built right in!  For high use areas such as dining tables, cabinetry etc., you may use additional topcoats, as preferred. The finish of this paint has a lustrous sheen; you can really see and feel the protective finish. We recommend using the Rachel brush, and if needed, a continuous mister bottle with this paint line. It can be a bit of a learning curve to get a brushstroke free finish with this paint (as opposed to a chalk/mineral style) because of the added topcoat, but by using the right tools and with a little practice, you'll be well on your way to achieving the flawless finish that our customers rave about with the ONE line!

Application:

    Give the paint a good stir/shake and check to see if the viscosity is to your preference. Some of our lighter colors can thicken in the jar; this can be easily corrected by adding a little filtered water to bring the paint to your preferred consistency.

 Zibra brushes also pair very well with Mélange for a smooth, silky finish. The Rachel Brush is the perfect brush to pair with ONE paint. Additionally, the paints can be diluted and use with a paint sprayer, as well as rolling on with a foam roller. Most colors take 2-3 coats for full coverage with the notable exceptions of highly pigmented Bohemian Gold and Bikini Pink which take 4-5 coats for full coverage. For using in a sprayer, you will want to go by the instructions included with your sprayer as they are all different and have varying requirements. There should be information included in the owner's manual about required viscosity and how to test for proper consistency. After that, it comes down to a matter of personal preference and technique. You will probably want to practice with a test board or piece to find what works for you.

    A thorough cleaning of your piece, followed by rinsing, and at least a light scuff sanding, then a good wipe down are recommended for best results.

    ONE paints are self priming; additional primer is not needed in most applications unless you are painting over an extremely slick surface (for this, sand well and use an adhesion primer) or painting over a surface with staining or potential bleed through such as raw wood (use a stain-blocking primer for this.)

    Re-coating:

        For ONE line: allow 2-4 hours before recoat at temps of 50°F or above.  For cooler temps, allow more time for drying between coats.

      If it is very cool or damp, the paints can take longer (up to 24 hours) to fully dry before the next coat. To prevent this, paint in a climatized area.

    After applying all coats, lightly sand  if desired with a fine grit (220+) to remove any remaining brush strokes. Our paint is self leveling, but some brushstrokes may still remain. A light sanding before sealing will give you a buttery finish after top-coating. ONE paint does not require sanding or sealing.

Coverage:

    Quart (32 oz): Approx 150 square feet.

    Pint (16 oz): Aprox 75 square feet.

    Half-Pint (8 oz): Approx 35 square feet.

    Sample (1 oz): Approx 2 square feet.

Top Coating:

  The ONE paint does not require sealing as it has topcoat built in for a lustrous finish. You can add additional protection by top coating with wax, poly, etc. if desired.  Oil and wax finishes will require reapplications over time. If using a poly finish over a light color, use a water based product to avoid yellowing. If using poly over a dark color, tint the poly with a bit of the paint color used on the project to avoid fogging or streaking.

Storing:

Keep the paint from freezing temperatures (do not store outside or in non-climatized areas as paints do not have an anti-freezing agent added). Wipe rim clean, and tightly screw lid back on after use. Opened paint will store for approx. 1 year, unopened paint can store indefinitely. Do not add unfiltered water directly to jar, decant into different container and dilute with filtered water.

Cure Times:

20-30 days for all paints.