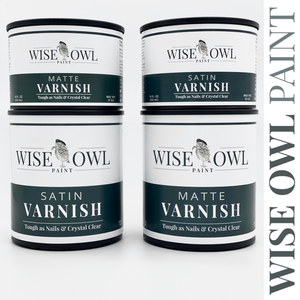 Varnish Clear Top Coat - Wise Owl - Matte or Satin - 18oz or 32oz
Regular price $38.00 Sale
Tough as nails and crystal clear, Wise Owl Paint™ Varnish is the perfect topcoat for any project (even outdoor projects)!  It's so tough you can tap dance on it! Varnish topcoat is available in a Matte or Satin finish.
 Available in Two Sizes : 18 oz or 32oz

Our tough-as-nails water-based topcoat!  This crystal-clear formula has zero amber resins, so yellowing is impossible from the Varnish.  It's so tough you can tap dance on it!  Want to protect something outdoors?  Three thin coats will give you the protection you need to protect against nature's elements.  Perfect for sealing pieces indoors that see a lot of use or traffic, such as dining room tables, chairs, and coffee tables.
Application Advice:
Apply in thin even coats and allow adequate dry time in between coats.
Try using a ClingOn F50 or F40 or F30 bush to apply for the smoothest finish.